At Larkin's, located in the heart of downtown Greenville, you'll experience luxury at every turn. Whether you choose a finely aged cut of steak or something more exotic—like Chilean Sea Bass—our service is impeccable and your palate will be tantalized by our fresh ingredients. With an award-winning wine list and handcrafted cocktails, Larkin's is the perfect place for a special occasion or just a night out with friends.
Larkin's is the perfect place to meet your friends and business team — sit on the patio and enjoy the view!
Join us every Monday at Larkin's for $1 oysters on the half shell and $5 house martinis!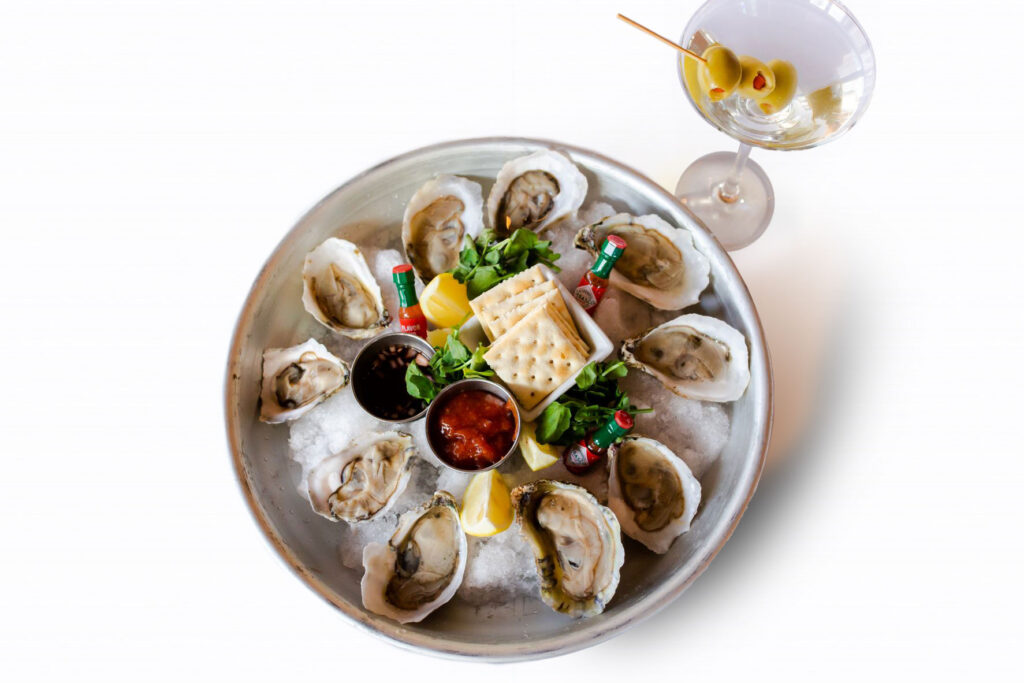 Hello, my husband and I were in Greenville in October and ate at your wonderful restaurant on opening night. This was our fourth visit to Larkin's and we loved your new location. Our dinner was fabulous along with the service and the visit and tour we took with the manager. I had the roast chicken with Carolina Golden Purloo; the rice was amazing. If your Chef was so inclined I would love to have the recipe for the Purloo. > Thank you for your kindness to us; we will definitely be returning to Larkin's on our next visit to Greenville.
Anna S.
Married on 10/28/2022
My husband and I (and all of our wedding guests!) were absolutely blown away by Larkin's. From the first moment we met with Emily and did our tasting to the very end of our reception, we had an amazing experience. The food is incredible and Emily was able to accommodate and customize a menu for us. We were incredibly satisfied with the bar package, hors d'oeuvres, and small plate stations we chose. Emily was incredibly flexible as we made several changes leading up to our wedding day. We highly recommend Larkin's to anyone looking for an event caterer!
Mary H.
Married on 10/15/2022
Excellent, even under pressure!

Emily helped us design a custom menu due to some food sensitivities I personally have. We got to the week of the wedding & realized our menu was not what we understood it to be. Emily worked with our coordinator to get it exactly perfect and was such a joy to work with in what could have been a really stressful situation! (The miscommunication was on our end as a couple). I'd highly recommend anything by Larkin's - especially the tacos. Really great for folks with allergies too!
Can't say enough about Emily and the staff at Larkin's catering!  She was always quick to answer my questions and went above and beyond to make our Rehearsal dinner easier for me!  Emily took care of all our rentals and made sure every detail was just as we wanted it.  And the food was delicious!  I worked with several vendors for our event and Emily was one of the very best!